The Botanic Hair Clips are a pair of bridal clips infused with pearls, translucent beads, and botanic details, giving a distinctively feminine aesthetic. All details are secured to a sturdy hair clamp with gold wire. The wire is very malleable, allowing the accessory to easily bend and form to your hairstyle. This accessory is perfect to wear on each side of your head to frame your hairstyle
Details
Length: approximately 4 in. 
Width: approximately 1.5 in.
Final Sale
Sold as a set of 2 Clips 
The Botanic Hair Clips are a pair of bridal clips infused with pearls, translucent beads, and botanic details, giving a distinctively feminine aesthetic. All details are secured to a sturdy hair clamp with gold wire. The wire is very malleable, allowing the accessory to easily bend and form to your hairstyle. This accessory is perfect to wear on each side of your head to frame your hairstyle
Details
Length: approximately 4 in. 
Width: approximately 1.5 in.
Final Sale
Sold as a set of 2 Clips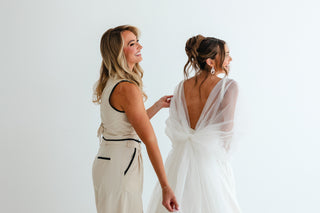 Female-Owned Small Business
Founded by Jessica Keife, a proud female entrepreneur, JKB&B was born out of a desire to create bridal accessories that are as unique as the brides who wear them. We believe that every bride should feel confident, beautiful, and empowered on her special day, and our accessories are designed to do just that.
Our Mission
We're dedicated to crafting bridal perfection, one accessory at a time, so your femininity and personal style shine on your special day. With timeless elegance and a customer-centric focus, we're here to make your bridal experience exceptional because for us, 'it's a forever kind of thing'. 
Affordable Elegance
At JKB&B, we're dedicated to making your wedding day a vision of elegance, all within your budget. We pride ourselves on offering high-quality accessories that are more affordable than traditional bridal shops. Your dream bridal look is now more accessible than ever, and we can't wait to be a part of your special day.
With Love, from California
We're excited to share a piece of California with brides from all around the world. We draw endless inspiration from the natural beauty of our home. The laid-back, yet elegant vibe of California is infused into our designs, making them perfect for the modern bride.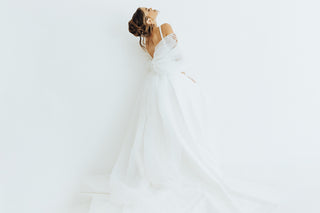 Accessorize your Love Story.