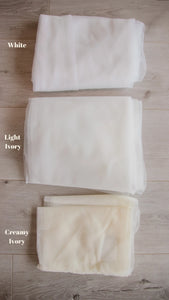 My Wedding dress looks white, should I get a white veil?
We advise checking your dress designer's website to see what color your dress is in the product description. Some dresses may appear white, but in fact are off white, light ivory, or ivory. Keep in mind, most sample dresses in bridal boutiques are some form of ivory. So even if your dress looks white, 9 out of 10 times it isn't.
Our Tulle Colors:
Bright White: Our traditional white is more of a pure/bright white color. Please only purchase this color if your dress is bright white. If your dress has any hint of ivory, the bright white will clash.
Light Ivory: Our light ivory is our most common tulle color. Our light Ivory is more of an off white color, and matches most gowns.
Creamy Ivory: Our creamy ivory has a slightly yellow undertone and matches dresses that are a darker ivory.
If you are still unsure, please email us photos of your dress for a free consultation, or purchase our tulle swatches to color match at home.
When should I order my bridal veil?

Please allow ample time to order your bridal veil. We suggest 2-6 months prior to your wedding day. Our veils typically take 2 weeks to process before they are shipped out. Shipping, especially for international orders, also require time. If an exchange is needed, we need to allow time for that as well. We do accept rush orders, but to reduce stress on both ends, please order your veil as soon as possible. We think it's best to have your veil for your final dress fitting which is typically 3 months prior to the big day!
tulle swatches are final sale